Banking in the New Age: Realities & Challenges

Digital disruptions are forcing banking and financial services organizations to rethink their operating models. Customers are demanding real time social interactions, competitive products, and personalized services; regulations are continually imposing financial and operational controls; and the pressures to increase operational efficiency keep mounting on leaders. Competition in banking is fiercer than ever, reputations are at stake and underperforming is simply not an option.
Global Trends in Banking Industry

Banks today cannot operate without significant investments in innovation and technology and must respond in order to improve profitability.

-Product Innovation

-Cyber Security

-Data Privacy & Personal Data Protection

-Market & Data Analytics

-Mobile & Online Banking

-Regulatory Compliance

-Branch Technology

-Customers Interactions & Experience
From Strategy to Execution

ThoughtStorm caters to the needs of its clients in the areas of banking and finance. We have solutions and services that will help you to reshape your retail banking models, to digitize and automate your daily processes, redesign your customer interfaces, modernize application and cognitive computing to facilitate the transformation of your entire operation, and quickly respond and meet the needs of changing consumer dynamics.

ThoughtStorm has gained valuable experience by working with some of the largest players in the Banking, financial services and insurance (BFSI) industry. We provide a full spectrum of service offerings to our clients by ensuring our consultants are experts in their respective fields.
Digital Disruptions in BFSI
Digital Wallets– Quick adoption of mobile apps that deliver convenience and efficiency of financial transactions.
Online Only Banks– Proliferation and growth of online-only banks.
Artificial Intelligence– FinTech trends such as chatbots, messaging, and hyper-personalized banking
Big Data– Consumer intelligence driving smart and effective decisions.
Blockchain– Blockchain continues to grow at a steady pace
Our Methodologies
Integrating IT Frameworks, Methodologies and Best Practices Into IT Delivery and Operation
At ThoughtStorm, we leverage practical and integrated solutions and operations management approaches. Our architecture strategy delivery & management processes are customized and aligned to our client's unique industries and business domains.
Our Architecture Strategy Delivery focuses on
Visioning and Strategy
Architecture Solution and Design
Development, Customization and Configuration
Implementation and Deployment
Operations Management and Control
Our Management Processes focuses on
Enterprise Management
Program & Portfolio Management
Project Management
Service Management
Architecture Management
We are well-versed in hundreds of software development methodologies and project management frameworks, but more importantly we have the expertise to know which methodologies are best suited for your organization and which industry best practices are 'right' practices for your organization.
Agile
PRINCE 2
Six Sigma
Lean
Event Chain Methodology
Adaptive Project Framework (APF)
Extreme Programming (XP)
Kanban
Scrum
PMI/PMBOK
Waterfall
Critical Path Method (CPM)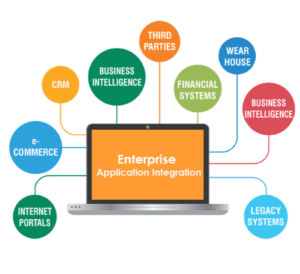 Enterprise Applications (EA) are a software solution that provide business logic and tools to model entire business processes for organisations to improve productivity and efficiency. Enterprise applications are core components of any organization's IT solution-set and are critically important to the running of any enterprise…
In 2020 ERP and HCM Report reveals that the average implementation duration is roughly 18 months In ERP and HCM implementation plan and timeline vendors and systems integrators treat all companies equally or otherwise fail to consider these important variables, which vary from company to company.
Here are some of the things that companies…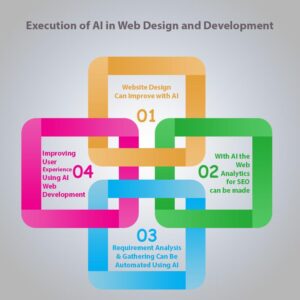 In todays environment AI is becoming a critical component in all industries, web design and development is no exception. AI can derive benefit for both to your business and your customers. Some of the areas our customers have seen benefits include:
1. AI can improve Website Design
2. AI can drive the Web Analytics for SEO…