Accelerating Innovation in the Public Sector

Governments, both at the Federal, State/Provincial levels are experiencing pressures from their constituents to provide efficient and convenient access to services. Government bodies are working harder than ever before to upgrade ailing and outdated infrastructures, processes and systems.
Challenges and Opportunities faced by Public Sector Organizations

In private sectors, IT decision-makers can identify the norms that matter to the organization's success and respond with choices that best serve those requirements. If a strategy turns out to be unbalanced, the management team quickly assess and work on a newer strategy. However, in public sector organizations, a failed strategy or initiative can have severe consequences as governments are funded by and answerable to their constituents. Key trends in this industry are:

Accountability & Transparency
Security and Data Privacy
Infrastructure Modernization
Mobile Engagement
Digitizational
Integration Apps and Services
Smarter Cities
Inter-Governmental Collaboration
eGovernance: old problems, innovative ideas, impactful solutions

At ThoughtStorm we have a dedicated team of consultants with a deep industry experience that enables public sector organizations to face their unique challenges. We provide end to end solutions and services that equip governments to embrace innovation and deliver valued service to their citizens. We are committed to pushing the boundaries of public sector organizations to implement solutions that are cost effective, efficient, inclusive and sustainable.
Our Methodologies
Integrating IT Frameworks, Methodologies and Best Practices Into IT Delivery and Operation
At ThoughtStorm, we leverage practical and integrated solutions and operations management approaches. Our architecture strategy delivery & management processes are customized and aligned to our client's unique industries and business domains.
Our Architecture Strategy Delivery focuses on
Visioning and Strategy
Architecture Solution and Design
Development, Customization and Configuration
Implementation and Deployment
Operations Management and Control
Our Management Processes focuses on
Enterprise Management
Program & Portfolio Management
Project Management
Service Management
Architecture Management
We are well-versed in hundreds of software development methodologies and project management frameworks, but more importantly we have the expertise to know which methodologies are best suited for your organization and which industry best practices are 'right' practices for your organization.
Agile
PRINCE 2
Six Sigma
Lean
Event Chain Methodology
Adaptive Project Framework (APF)
Extreme Programming (XP)
Kanban
Scrum
PMI/PMBOK
Waterfall
Critical Path Method (CPM)
Digital transformation is about revolutionizing the way business is done and future-proofing your organization for the continuously changing internal factors, external competitors, industry trends and new technologies. With this in mind, an agile approach to rolling out new initiatives across the business will ensure all teams involved can quickly adapt and deliver value often …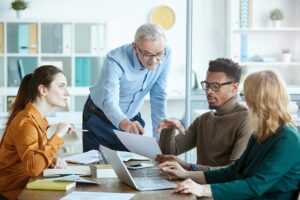 The Information Technology sector plays a great role in the growth of a country's economy. Digital transformation has also played a key role, and continues to do so in delivering modern government solutions to help protect and improve overall management of the industry. Industry segments and solutions- Defense and Intelligence…
Change management is the systematic approach and application of knowledge, tools and resources to deal with change. Effective change management goes beyond project management and technical tasks undertaken to enact organizational changes and involves leading the "people side" of major change within an organization. The primary goal of change….